Company Name: Connect2Hampshire
Date: October 2020
---
Introduction
Commercial Services Group is committed to ensuring that it implements steps within its procurement processes and subsequent supply chain partners and sub-contractors to endeavour to eliminate and eradicate acts of modern slavery and human trafficking that instil an understanding that we take a zero-tolerance policy in respect of modern slavery and human trafficking. Modern Slavery, as described in the Modern Slavery Act 2015 includes a range of potential exploitation types, including but not limited to:
Slavery, servitude and forced or compulsory labour
Sexual Exploitation
Removal of organs etc
Securing services etc by force, threats, or deception
Securing services etc from children and vulnerable persons
CSG is a supplier and broker of products and services in the UK. It is pre-eminent in Global Education Supplies (KCS, CES and KCS Procurement Services), Energy (LASER, Lumina and Zero Carbon Future), People Services (Recruitment and HR Services including; Connect2staff and Connect2Kent, as well as operating Joint Venture companies in the recruitment environment and HR Connect), Community Services (Landscapes and Managing Waste) and Professional Services (Cantium Business Solutions, The Education People and Invicta Law) plus selected Operational Services markets, providing a wide range of products and services to both public and private sector customers.
CSG has its origins in Kent County Supplies (KCS), a company founded in 1930. From our base in Aylesford, we supply circa 30,000 products and resources from our warehouse and direct from our suppliers. Our customers are based across the UK and include schools, local authorities, charities, and other businesses such as nurseries and care homes. Our categories of spending normally fall into one of the following areas: Educational Resources, Learning and Office Supplies, Emergency Services, Facilities Management, Furniture, Health and Social Care, Legal services, IT services and HR services. In a drive to offer our customers even better value for money, we have invested in our own brand range covering products such as stationery, arts and crafts, sports and early years products. Some of these are globally sourced from factories across China, India, Taiwan, and the EU.
1.1 Our Business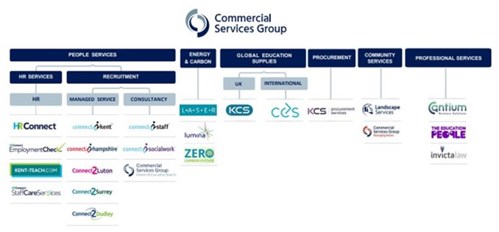 1.2 Our Vision
To become the recognised global leader in education and public sector procurement and support services.
How we measure our success
Customer experience
Commercial growth
Social value
Empowered workforce
Policy
The CSG Sourcing Code of Practice (SCOP) sets out our commitment to worker rights and our expectations of our suppliers. It is based on the Ethical Trading Initiative (ETI) Base Code.
Clause 1 of the code states that employment must be chosen freely, with no forced, bonded, or involuntary labour.
This policy explicitly addresses our position in relation to modern slavery and human trafficking it also has links to other relevant policies and procedures within Commercial Services Group.
Compliance Statement
Anti-Bribery Policy
Anti-Fraud Corruption Strategy
Contract Management Principles
The SCOP is approved and signed by the Chief Executive Officer of CSG. It can be found at www.commercialservices.org.uk
It is applicable to all suppliers of goods, including brand and own-brand suppliers in all sourcing countries for CSG. Suppliers trading with CSG are expected to be compliant in meeting their contractual requirements and all relevant CSG policies, including the SCOP.
In applying the policy, suppliers must also comply with all relevant national and other applicable laws. If there are areas of the SCOP where they are not able to comply, they should explain to CSG how their policies, processes and standards address the fundamental principles of that provision and how their standards were developed in collaboration with workers. Our SCOP
is the first point in a continuous improvement journey with a supplier and we recognise that further down our supply chains, suppliers may need more support in meeting their requirements.
Governance
Strong governance over how we are managing and mitigating the risk of modern slavery and other human rights issues in our supply chains is critical in ensuring we are meeting and exceeding our responsibilities as a distributor/service provider and the requirements of the Modern Slavery Act.
Overall responsibility for CSG's slavery and human trafficking initiatives rests with the relevant Heads of Procurement across all CSG's business functions, supported by representatives from procurement, commercial, operations and human resources.
Risk Assessment and Due Diligence
As part of our risk identification and mitigation process, we:
Identify and assess potential risk areas.
Mitigate the risk of slavery and human trafficking occurring through supply chain management.
Monitor potential risk areas in our supply chains and in our own operations, and;
Ensure staff are aware of the key indicators of potential modern slavery.
With several categories of spend, CSG has a wide range of supply chains each with individual characteristics covering both product and service-based supply chains. We therefore identify the areas of substantial risk to human rights and act accordingly.
Whilst we are aware that modern slavery can occur much closer to home, we believe that our global sourcing activity presents the highest risk of all to human rights within our supply chains. Therefore, we have put in place a robust procurement and audit process. Ethical audits to the Ethical Trade Initiative (ETI) Base Code as a minimum are requested as part of any tender and onboarding process, along with a strong recommendation for our suppliers to become members of SEDEX (Supplier Ethical Data Exchange), in addition we request factories are re-audited at least every three years. We work with Société Générale de Surveillance SA (known as SGS) as our appointed independent test house, however we also accept audits from other independent test houses where appropriate.
Training and Awareness
As a procurement organisation, we have a number of staff who hold or are working towards a professional qualification from the Charted Institute of Procurement & Supply (CIPS). CIPS have a wide range of eLearning modules available for members including Ethical Procurement and Supply which we encourage all staff to complete.
Our procurement and contract management staff are required to complete training for wider safeguarding and equality issues, including aspects such as Modern Slavery. Our People, Communication and Culture team make available to all employee's information on Modern Slavery and our central Procurement Team offer support and assistance to Supply Chain and Contract Managers to ensure that they are aware of our, and there, obligations.
The Future and Collaboration
CSG recognises the responsibility that we must embed social value into our business activities. This includes working towards eradicating modern slavery and human trafficking in our business and supply chains. We remain committed to this and will continue to make further improvements. We will continue to collaborate with our suppliers, member authorities, customers, staff and other stakeholders to share best practice and to encourage more commitment to eradicating slavery and human trafficking from all supply chains.
Engagement
As part of our procurement process, we will only engage with suppliers and contractors who confirm their compliance with the Act. We have adapted our existing corporate policies to incorporate modern slavery and human trafficking issues including our Whistleblowing policy which allows employees to report any concerns confidentially. Any person or organisation that has suspicions or concerns re Modern Slavery within our supply chain should email csgprocurement@csltd.org.uk.
Appendix A
CSG Sourcing Code of Practice (SCOP)
As an ethical and values driven organisation, it is important to CSG that addressing and ensuring the human rights of those who help to make and sell our products and services is managed correctly, with individuals in mind.
We seek to build lasting relationships with our suppliers. We are committed to respecting the rights of workers throughout our product and services supply chains and collaborating to raise labour standards, to improve working conditions and to create fairly rewarded employment.
Requirements on Purchasers
In addition to the standard procurement activities as identified in the CSG Procurement policy additional checks may be required prior to engaging in a contract with a Supplier. We will for all Supply Chains (including global sourcing) – include a Supplier Questionnaire, aimed at seeking assurances to the Suppliers commitment to preventing modern slavery. This will include, but not limited to:
What does your supply chain look like?

What countries are your product and services sourced from?
Do you conduct independent/unannounced audits of supply operations?

What policies does your company have regarding modern slavery and human trafficking?
What standards are your employees and contractors obligated to follow, and what are the penalties for non-compliance?
What training do your employees and contractors undertake regarding modern slavery?
If modern slavery is identified in your supply chain, what sanction and remediation process do you undertake?
Are you a member of SEDEX or an equivalent organisation?
For supply sources that are deemed to be from high-risk regions or countries additional checks will be undertaken via third party providers such as SGS and/or visits from a relevant CSG employee to the suppliers premises (factories, offices etc) to undertake direct inspections
Any cause for concern re a supplier's activity will be immediately reported via the employees management chain and to the Head of Procurement, Commercial Services Group.
On-going Checks
In accordance with the CSG Contract Management Policy, purchasers will undertake periodic reviews of suppliers that will include reviewing Modern Slavery compliance.
Requirements on Suppliers
This Sourcing Code of Practice (SCOP) sets out our expectations of suppliers on issues such as pay, working hours, child labour, worker rights and representation. The provisions mirror the Ethical Trading Initiative (ETI) Base Code.
The ETI Base Code is founded on the conventions of the International Labour Organisation (ILO) and is an internationally recognised code of labour practice agreed amongst business, NGO and Trade Union members of the ETI. It is an accessible standard against which we can assess progress on labour rights through our supply chains. CSG believe that the application of the SCOP enables real and practical steps to be taken towards improving social conditions in our supply chains.
Suppliers are expected to comply with the provisions of the SCOP, or if there are areas where they are not able to comply, they should explain how their policies, processes and standards address the fundamental principles of that provision and how their standards were developed in collaboration with workers.
We have compliance programmes to monitor adherence to the SCOP through risk assessment and ethical auditing. This information is used to decide if we will source or continue to source from a supplier. We will work with suppliers to support necessary improvements but will take action if they are not prepared to make improvements.
CSG embraces the UK's Modern Slavery Act and the duty it places on businesses to disclose publicly the steps they are taking to tackle forced labour and human trafficking. We recommend that our suppliers conduct risk assessments to understand areas of vulnerability, raise awareness of the risks internally and externally, and establish clear policies and due diligence processes.
The SCOP is applicable to all suppliers of goods and services, including brand and own brand suppliers in all sourcing countries. Suppliers are expected to establish management systems for implementing the SCOP and maintain records demonstrating compliance. It is important that their workers and those in their supply chains understand their rights set out in the SCOP.
In applying the SCOP, suppliers must also comply with all relevant national and other applicable laws. Companies trading with CSG are expected to be compliant in meeting their contractual requirements and all relevant CSG policies.
Principles of the SCOP
Employment is freely chosen
There is no forced, bonded, or involuntary prison
Workers are not required to lodge their identity papers with their employer and are free to leave their employer after reasonable notice.
Freedom of association and the right to collective bargaining are respected
Workers, without distinction, have the right to join or form trade unions of their own choosing and to bargain collectively
The employer adopts an open attitude towards the activities of trade unions and their organisational activities.
Workers representatives are not discriminated against and have access to carry out their representative functions in the workplace
Working conditions are safe and hygienic
A safe and hygienic working environment will be provided, bearing in mind the prevailing knowledge of the industry and of any specific hazards. Adequate steps will be taken to prevent accidents and injury to health by minimising, as far as is reasonably practicable, the causes of hazards in the working environment.
Workers will receive regular and recorded health and safety training, and this training will be repeated for new or reassigned workers.
Access to clean toilet facilities and to potable water, and, if appropriate, sanitary facilities for food storage will be provided.
Accommodation, where provided, will be clean, safe, and meet the basic needs of the
The company observing the code will assign responsibility for health and safety to a senior management representative.
Child labour will not be used
There will be no new recruitment of child labour.
Companies will develop or participate in and contribute to policies and programmes which provide for the transition of any child found to be performing child labour to enable her or him to attend and remain in quality education until no longer a child.
Children and young persons under 18 will not be employed at night or in hazardous conditions.
Living wages are paid
Wages and benefits will be paid for a standard working week meet, at a minimum, national legal standards, or industry benchmark standards, whichever is higher.
All workers will be provided with written and understandable information about their employment conditions in respect to wages before they enter employment and about the particulars of their wages for the pay period concerned each time that they are paid.
Deductions from wages as a disciplinary measure will not be permitted nor will any deductions from wages not provided for by national law be permitted without the expressed permission of the worker concerned. All disciplinary measures should be recorded.
Working hours are not excessive
Working hours must comply with national laws and collective agreements. Working hours, excluding overtime, will be defined by contract, and shall not exceed 48 hours per week.
All overtime will be voluntary.
The total hours worked in any 7 day period will not exceed 60 hours.
Workers will be provided with at least one day off in every 7 day period or, where allowed by national law, two days off in every 14 day period.
No discrimination is practised
There is no discrimination in hiring, compensation, access to training, promotion, termination, or retirement based on race, caste, national origin, religion, age, disability, gender, marital status, sexual orientation, union membership or political affiliation.
Regular employment is provided
To every extent possible, work performed must be based on recognised employment relationship established through national law and practice.
No harsh or inhumane treatment is allowed
Physical abuse or discipline, the threat of physical abuse, sexual or other harassment and verbal abuse or other forms of intimidation will be prohibited.