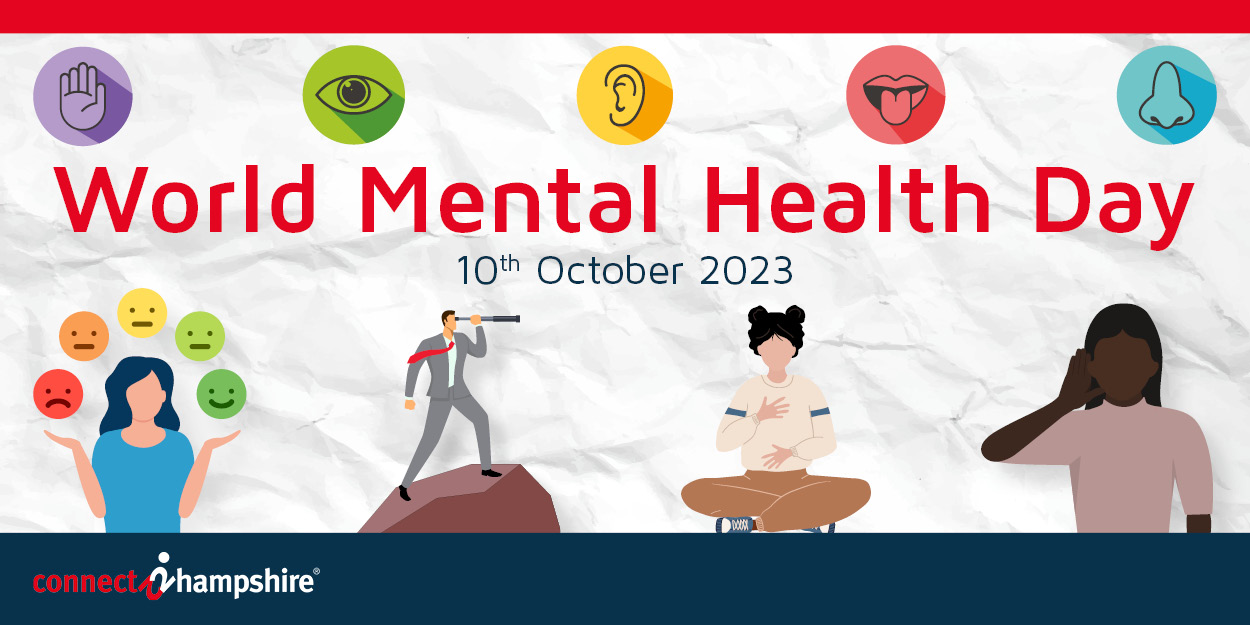 10 October 2023
World Mental Health Day
Our mental health is constantly influenced and affected by many social and historical circumstances. While we can't outright stop these negatively affecting us, we can stop any serious mental issues developing with the right steps. Sometimes our mental health is good, life feels great and you feel like you're on top of everything, but what do you do when things aren't feeling so good?
There is no easy or straightforward fix for when our mental health is feeling low, however there are certain exercises that we can practice to help. These exercises can be split into 5 different categories:
Body scan
Mindful seeing
Mindful listening
Mindful breathing
5 senses experience


Body Scan
The Body Scan is a very simple exercise that can help you become more grounded, especially when having an episode of panic or anxiety. To complete the body scan, lie flat on your back or sit in a comfortable chair, then close your eyes and take some deep breaths. Now starting at your feet, make a mental note of how they feel; what do your socks or shoes feel like against each part of your foot? You then continue this up the rest of your body. The aim of this exercise is to help you become more in tune with your body and distract your mind.
Mindful seeing
Mindful seeing is again a very simple exercise that only requires a window or a door. To do this exercise, make sure you can see an outside space and observe. What can you see? From here you describe it but not in what the object is; in colours and shape. The idea is to try and view what you are seeing from the perspective of someone who has never seen that before. If your mind starts to get distracted, focus on a different object and start again. This exercise can be used anywhere - whether you're at work or at home.
Mindful listening
The mindful listening exercise works best in a group (of any size) so is ideal for doing with friends, family, or colleagues in the workplace. The first and arguably most important step is to create a safe space with the participants in the exercise, ensure that it's made clear that there will be no judgment, and that everyone will get a chance to speak. From there, invite the group to each think of 1 thing that they are stressed about and 1 thing they are looking forward to. Once they have all had time to think, they then each get an opportunity to share with the group. This exercise allows you to cultivate deeper listening skills, and share with those around you.
Mindful breathing
The mindful breathing exercise can be done in many ways, however, all the techniques aim to have the same outcome. The idea of this exercise is to feel more grounded and to refocus your mind on those negative thoughts that you may feel overwhelmed by. One technique for this exercise is to imagine a shape - a triangle is quite common for this but any shape can be used. Now, as you take a deep breath, imagine a dot moving along one of the sides of the shape; then as you exhale, the dot moves along the next side. Continue doing this as long as you need to. Another technique is to take a deep breath in and then as you exhale, try and count to 8. Doing this is particularly useful in a panic situation where your heart rate and breathing may be elevated.
5 senses experience
This exercise can be done in a couple of different ways and each work by focusing on the 5 senses: sight, sound, taste, touch, and smell. The first technique is to list (either mentally or note down) 5 things you can see and then observe them, what shape are they? What colour are they? Then move on to sound; what are 5 things can you hear? Are they high-pitch or low-pitch? You then continue this with each of the other senses. The other and shorter technique is to start by listing 5 things you can see, but then when moving on to sound, you list 4 things you can hear. Next are 3 things you can touch, 2 things you can smell, and then 1 thing you can taste. These can be done in any order, but the idea of this exercise is to allow you to focus on something other than what is going on in your head. This is very useful for doing in the moment when you may not be able to get to a quiet space to do another exercise.
What do you find most useful? Share your ideas with others, and together we can support each other to live mentally healthier lives.
Share this blog post
Why not subscribe to this blog and receive blog updates!
Subscribe